Research shows consumers are cutting down on unsustainable choices since working away from the office
69% are willing to change behaviour to manage global crisis or existential threat
Over one in five (22%) consumers will adopt or maintain thinking more about the packaging of food and drink
45% fewer people are buying bottled water for work or on-the-go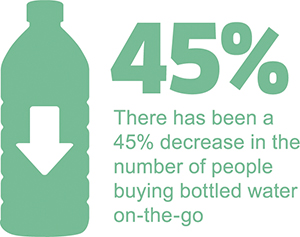 It's safe to say lockdown has influenced consumer purchasing decisions and priorities in a big way. In fact, according to new research commissioned by BRITA Professional, almost half (48%) of all GB adults are now more conscious of making sustainable, environmentally friendly choices day-to-day.
Consumer demand for sustainability in the industry isn't new – research conducted by BRITA Professional last year [i] revealed that while many hot beverage operators want to be more sustainable – because they believe it's the right thing to do or because they are feeling pressure to make changes to remain competitive – the key driver for sustainability is actually consumer demand.
What is new is that since the pandemic, almost seven in ten people (69%) said they were willing to alter their behaviour to manage a global crisis or existential threat. This suggests that changing the way we talk about environmental threats such as plastic pollution or climate change could have a big impact, and by preparing for new behaviours towards sustainability, businesses can not only improve their eco-footprint but also become more appealing to consumers.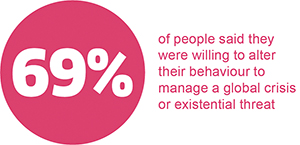 With the research also suggesting that positive habits picked up during lockdown could stick, sustainability is going to become increasingly more important to consumers. And, with a staggering 30% of people expecting to visit coffee shops and restaurants less frequently going forwards, it's important that hospitality professionals are prioritising sustainability to coincide with consumers switching to environmentally-friendly practices.
For instance, pre-lockdown, 55% of the wider population were purchasing bottled water from quick service outlets whist commuting. However, since lockdown began, there's been a 45% decrease in the number of people buying bottled water on-the-go. Instead, almost a third (31%) are intending to carry a reusable bottle with tap or filtered water when lockdown ends. In fact, previous research from BRITA Professional found that 61% of consumers would view a café more favourably if it used BRITA filtered water [ii].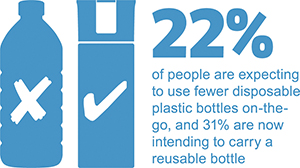 Sarah Taylor, Managing Director of BRITA UK, said, "The damage that single-use plastic is doing to our marine environment and wildlife, in addition to our wider natural environment, has been well documented. But we also know that many people are committed to tackling this, and it is encouraging to see from this research that even more people have adopted more sustainable behaviours during lockdown in place of less sustainable habits borne out of convenience. What's clear is that in order to maintain this shift, Government, business and the wider public need to come together to support a more flexible working culture that enables those who can to work remotely at least part of the week, to give people the time and space to integrate sustainability into their lives."
While consumer demand for sustainability is high, now is the time to reassure customers that they can remain safe in your hospitality venue, while also being sustainable.
Richard McIlwain, Deputy Chief Executive of Keep Britain Tidy, said, "Since Blue Planet II aired, we are perhaps more aware of the damage we're doing to the planet, but there is a massive gap between awareness and changing behaviour. However, these findings clearly show how during lockdown, when many people had a little more time to pause and take stock, they were able to adopt simple but effective pro-environmental behaviours. We really need to make sure that in the dash to restart the economy, we don't lose these changes but preserve and build on them."
Mary Creagh, former Chair of the Environmental Audit Committee, said, "Cutting down on single-use plastics is as important as ever, whether that is using fewer disposable coffee cups or avoiding throwaway water bottles. This research shows that remote working, and daily walks have helped people make the switch to environmentally-friendly practices which is encouraging. It's important that businesses and the Government continue to support those who choose to work from home. With so many people willing to alter their behaviour to respond to a global crisis, now is the time to rise to the environmental challenge and support people to make small changes that make a big difference."
Denise Wilson OBE, Chief Executive of The Hampton-Alexander Review, said, "We have a unique opportunity right now to fully harness the benefits of remote working. We have long known that remote working is a critical factor to improving equality and diversity in the workplace, but in addition there is clear evidence that changing the way many of us work will also help protect the environment. Just as workers have embraced new, more sustainable habits and ways of working, so each and every business – and the Government – need to play their part to encourage more agile working for the long term and build back better for society and the environment."
Chris Butler-Stroud, Chief Executive at Whale and Dolphin Conservation, said, "The last few months have shown that the public really does value nature as being central to their health and the health of the wider environment. Governments often feel they have to tread carefully in nurturing consumer behaviour; not wanting to feel like they are forcing change on the public. But COVID has changed all that. We are now faced with a window of opportunity for government and the business sector to seize the opportunity to help a willing public to make the critical choices to end the use of single use plastics and make the necessary changes to meet the existential threat represented by the climate crisis."
Washika Haak-Saheem, an Associate Professor at Henley Business School, said, "We know our habits are powerful drivers of our behaviour and working from home has triggered a discontinuity in our habitual responses. The disruption caused by this global health crisis can be a great opportunity to form new aspirations around sustainable travel or consumption. As advanced technologies supports us in the new ways of how we work, we may find it easier to embrace a more carbon conscious way of living in the long run. Especially as we know that climate change as implications for the frequency and severity of future pandemics. We must use this moment to break from the inertia of the past by breaking with suboptimal habits and processes. In a post-COVID-19 world, transformational approach to reinventing work will be mandatory to remain competitive. Instead of adjusting the existing footprint incrementally, we should take a fresh look at how we do things in a more holistic manner. These changes may not only improve the ways of how we work but also lead to wider positive impact on communities and societies."
To find out more about BRITA's sustainability credentials, please visit: www.brita.co.uk/sustainability
 
For more advice, tips and insights on sustainability, download a copy of the Life is Better Filtered: School of Expertise – Serving Coffee Sustainably toolkit: https://issuu.com/britaprofessional/docs/brita_q3_toolkit_final_single_pages
[i] Research throughout is from 3GEM conducted with 500 coffee professionals (October 2019), unless otherwise indicated
[ii] 3GEM in collaboration with BRITA Professional (November 2018)