VOG Products, the modern, innovative fruit processing company in Trentino-South Tyrol, has set new standards for sustainability. The company fully satisfies the GLOBALG.A.P. Farm Sustainability Assessment and has earned the Gold Standard.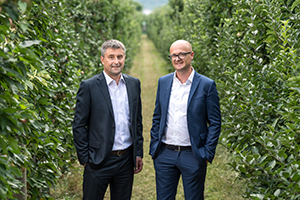 VOG Products was established in South Tyrol – Südtirol in 1967 – in the heart of the Dolomites, a region with a long tradition of orcharding. Using the land and its resources respectfully and sustainably has always been part of our corporate culture. There are good reasons why the Trentino-South Tyrol region regularly ranks at the top in nationwide comparisons when it comes to quality of life.
Today, VOG Products comprise 18 South Tyrolean and Trentino cooperatives and four producers' organisations with more than 13,000 members. Most of them are small family-run enterprises that passionately and sustainably manage a total of 28,000 hectares of cultivated land.
Their commitment to sustainability has also been certified in accordance with the highest possible standard since June 2020. In May, VOG Products successfully completed the GLOBALG.A.P. Farm Sustainability Assessment (GGFSA) with an audit by the CSQA certifying institution. At the first go, VOG Products earned the highest sustainability category: Gold.
With this achievement, VOG Products has set new standards in the fruit processing sector. More than 300,000 tonnes of raw goods from 13,000 enterprises are processed and refined on the eight-hectare premises in Laives year after year, and the fact that they all fully satisfy the highest standards is simply unique.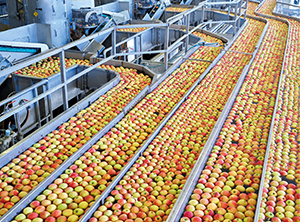 With the GGFSA, the global SAI platform (Sustainable Agriculture Initiative) has joined up with GLOBALG.A.P to offer an innovative solution based on the GLOBALG.A.P. standards for crops. It unites all the FSA sustainability requirements in one compact, verifiable standard, making it easier for distributors and producers to procure safe, sustainable products transparently and more efficiently. The certificate is awarded in three performance categories: Gold, Silver, and Bronze.
"We are quite pleased that our many years of commitment have now been recognised with the FSA Gold label," explained Johannes Runggaldier, the Chairman of VOG Products. "Sustainability is not a superficial label. Instead, it reaches right down to the roots of our production chain. One of the factors that safeguards it is traceability from the end product to the farmer."
"That is our guarantee to our customer and ultimately, consumers," added General Manager Christoph Tappeiner. "We actively embrace sustainability as part of our corporate culture and as such, further develop it with a view toward the future challenges and requirements in the market."
Social criteria play as much of a role when it comes to sustainability as respect for nature and the products, as do the use of state-of-the-art safety systems and technology.
For example, VOG Products has a photovoltaic system with a power output of 998 kWp. It is used to generate electricity, hot water, and steam in conjunction with a cogeneration plant. Annually, around 8,230,000 kWh electricity and 3,070,000 kWh heat are generated. Further, its waste water is used in the nearest water treatment plant to generate gas and electricity, and production waste is delivered to various biogas plants to be used a source of energy.
VOG Products is an innovative company specialising in the processing of apples and other fruit. It is owned by 18 cooperatives in South Tyrol and Trentino and four producers' organisations comprising over 13,000 family-run enterprises. Every year, VOG Products process more than 300,000 tonnes of raw goods to create healthy, safe products for the international market.