The ever growing trend in consumer habits is to source products and services from companies that go the extra mile. Customers are increasingly on the lookout for products that are kind to the environment; or that take animal welfare into consideration – while some are looking for that special company that source ingredients conforming to their dietary and/or beliefs, i.e. vegan friendly.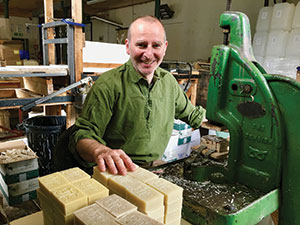 Maybe it's the use of only naturally occurring ingredients they are searching out, packaging that is recycled and can be re-recycled, or finding a company whose ethical values ensure products are honest, true to the company's word, and not priced to 'rip-off' and turn a profit for shareholders.
If only someone did it all
Well incredibly, Friendly Soap does all those things and more!
Established in 2008 by Geoff Kerouac and Rob Costello and based in Robinwood Mill, Todmorden, High in the Pennines; Friendly Soap came from two men whose desire was to use 100% natural ingredients to create soap made with an ethical conscience, at affordable prices.
For Geoff and Rob, making soap is about more than manufacturing a product. It's a constant process of learning, improving and refining in order to make as little impact on nature and health as possible – this combined with an unusual but appealing quality of running their business with ethics coming before profit ensures their soaps are made with love and passion.
More than just soap
Friendly Soap produces their soaps using the ancient cold-process method, ensuring a biodegradable soap with no produced by-products; and of course each bar is hand-made – not like a mass production cake company may claim, where one person adds a decorative motif – but poured, cut, stamped and packed by hand, hand-made. And most importantly their soaps are free from harmful preservatives and foaming agents thanks to the zero use of SLS and Parabens – but make no mistake; these soaps are still silky and foamy thanks to the use of naturally lathering ingredients.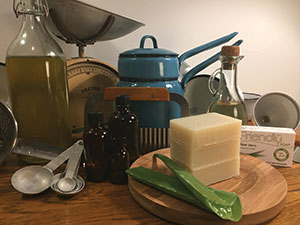 Their soaps don't contain animal products and Geoff and Rob are against any form of animal testing, giving them Cruelty Free International and The Vegan Society accreditation. Their refusal to use Palm Oil – oil which accounts for acres of rainforest destroyed every hour, along with the animals who live amongst the trees – emphasise their passion for a truly planet friendly soap. They have instead sourced their nourishing ingredients such as Shea Butter, from a women's worker cooperative in Ghana, and their Coconut Oil is not produced using slave monkeys to pick the fruit – believe it or not this happens.
The choice is yours
Using only natural essential oils, flowers, spices and herbs, Friendly Soap ensure each product they sell is chocked full of fragrance and essential cleaning oils – after all what use is ethical natural soap if it doesn't clean (actually it cleans better than harsh chemical based soaps and gels).
From an Aloe Vera based soap, Lavender, or Lemongrass and hemp, to more citrus notes like the orange and grapefruit soap; or a more exfoliating alternative like the peppermint and poppy seed variety – where the seeds act as a natural exfoliant as opposed to those terrible micro-beads – there's soap for every skin type and preference. Whichever soap or shampoo bar chosen, each is hand packed using only recycled and recyclable card, again reiterating Friendly Soaps dedication to people, animals and the planet.
For more information regarding Friendly Soap and their incredible product range head on over to their website, or alternatively use the below details to contact the friendly team who'll happily answer any queries you may have.
T 01706 818666
info@friendlysoap.co.uk
www.friendlysoap.co.uk