Food and Drink Matters have chosen Lizzie's Food Factory as our Food Confectionary Manufacturer Company of the Month.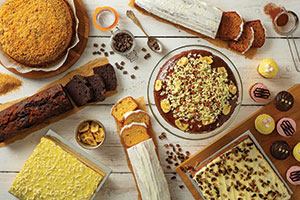 Lizzie's Food Factory has been tantalizing the nation with their baked delights for over 30 years. Liz & Trevor Judd founded the business in 1988 with four generations of family baking heritage behind them. Now based in Burgess Hill in mid Sussex, Lizzie's has become a successful purveyor of both wholesale and retail goods, boasting SALSA accreditation to its name.
The company showcases an extensive array of sumptuous handmade goods with their sweet range including an indulgent selection of café styled cakes, traybakes, gateaux, tarts and muffins. Lizzie's also display a versatile selection of individually wrapped flapjacks and wrapped bars ideal for retail sale.
Alongside their cake range, Lizzie's offer an irresistible choice of handmade savoury bakes, their expertise evident, with all savouries being made fresh-to-order. Sausage rolls, pies, pasties, quiches and a fried range of scotch eggs (including vegetarian options) all feature amongst their popular picks.
Lizzie's believe that everyone deserves a little indulgence in life and they go that 'extra mile' to ensure that they truly cater for all. That is why you will find an ever-growing selection of gluten free, vegan and vegetarian options within their range.
With Trevor's children both being vegan (daughter Ellie Judd designed the packaging) and being aligned to increasing consumer demand for healthier alternatives, we have developed our new 'PLUSBARS'. Plant-based oat/fruit/seed bars, they contain no added sugar, are gluten free and are also naturally high in protein. Choose from 3 exciting flavours, Raisin & Apricot, Cocoa & Hazelnut and Pecan & Cranberry." Kevin Chaplin, Sales Manager.
The bakery also caters for bespoke recipes featuring the client's own label and already manufacture own-label products for a number of emerging brands.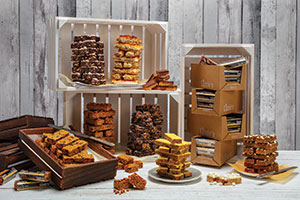 Speaking to Kevin Chaplin, Sales Manager, about Lizzie's Food Factory's ethos and products, he states that, "We believe that the artisan appearance of handmade products means the quality must be exceptional, so that is where our focus lies. Our products, particularly cakes, are chilled or ambient which gives our customers an important shelf life advantage over 'thaw and serve' products that are widely seen in the market. For example, our Café style cakes and Gateaux are manufactured with approximately 3 weeks shelf life. Thaw and serve cakes have to be discarded 3 to 4 days after defrost."
With their own distribution network delivering across the South East to Central and South London, Kent, Sussex, Surrey and Hampshire, Lizzie's offer an outstanding, tailor-made local delivery service. Nationwide distribution is available via a next day courier service.
Lizzie's take pride in producing outstanding, high-quality foods and knows that there are no substitutes for good, honest ingredients. That is why all their ingredients are carefully handpicked and sourced locally whenever possible.
With its diverse range of products, suiting a variety of consumers, Lizzie's deliver to a vast client base including cafes, garden centres, theme parks/attractions, contract caterers, sandwich and snack delivery vans, independent shops and restaurants.
Striving for continuous improvement, recent years have seen considerable investment by Lizzie's in new machinery, on-site facilities and brand development. By 2020, Lizzie's will be a prominent brand for handmade sweet and savoury snack confectionary for retailers and distributors.
"What sets Lizzie's apart? It's simple really: It is not just about high standards, it's our pledge that we are totally uncompromising when it comes to the quality of our products and the service levels we constantly deliver" Kevin Chaplin, Sales Manager.
T 01444 235566
www.lizziesfoodfactory.co.uk