Within this issue of Food and Drink Matter's we are delighted to have selected Soda Folk as our Soda Provider Company of the Month.
Experience the taste of America. That is what Soda Folk ultimately provides the UK, great tasting, American craft classic soft drinks. Created by Colorado born Ken Graham in July 2015, Soda Folk was born from Ken's disappointment whilst being in the UK and missing the great tasting American Root Beer, he had back home. Determined to fill the gap in the market by infusing original tasting flavours with his American Heritage, Ken founded Soda Folk and began their flavoursome journey.
With Colorado being famous for being expert craft-brewers, the combination of passion, authenticity and experience has enabled Soda Folk to create the perfect American tasting craft drinks for the UK. Soda Folk provide their products to casual dining chains, some of their main customers include: TGI Fridays, Frankie and Benny's, Byron Hamburgers and TK Maxx. Alongside their distribution in dining chains, Soda Folk are also available throughout many independent cafes, bars and American style food chains.
Speaking to Freya Harrison, Sales Director for Soda Folk, she told us that, "There are no other UK Root Beer and Cream Sodas with a clean all natural deck of ingredients like ours that have the great tasting original American flavour."
Their fully stocked range showcases an array of favourable American craft classic tastes. With American classics such as Root Beer and Cream Soda in their range, Soda Folk have designed a flawless recipe, providing customers an American craft classic soda with a burst of unique flavours, to create perfection in every sip, without the need for artificial ingredients. Enriched with the ideology of providing one-of-a-kind flavours, Soda Folk's excel in their ethos of providing 'Uncommon Flavours for Uncommon Folk'.
"We do not add preservatives or flavourings to any of our drinks. Our Cream Soda is packed full of Vanilla and packs a serious flavour punch. Our lighter range, Cherry and Orange (<90kcal per 330ml can) are naturally sweet from the fruit juices and have no artificial sweeteners, unlike most other lower calorie soft drinks." Freya Harrison, Sales Director.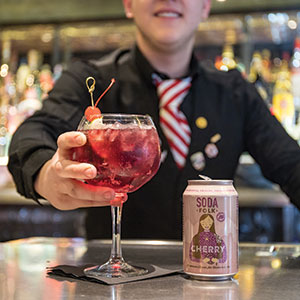 The Famous Four is their popular range of craft soda products; each soda features its own unique tasting flavours including Orange, Cream Soda, Root Beer and Cherry Soda. A notable feature displayed within these products is their own personal American styled character, on the cover of the can. These featured characters include; Fred's Cream Soda, Brian's Root Beer, Richards Orange Soda and Tracey's Cherry Soda. Each of these soda characters are based on real people and Soda Folk's website provides a back story about why the company dedicated their soda character design, to that specific person. Unique and captivating, their use of colours and characters sets Soda Folk apart from competitors.
Speaking to Freya Harrison, in regards to the unique benefits Soda Folk's products provide for their customers, she told us that, "Due to the great feedback of our bottles range, we now produce our Cherry and Orange sodas in 330ml cans, like Root Beer and Cream Soda, meaning customers can buy in bigger packs and at a competitive price. Our Cherry soda is fast becoming our best selling line because of its unique flavour in that it is a little tart, made with morello cherries and is refreshing like a Haribo sour cherry!"
Leading the way in providing American Classic drinks to the UK, Soda Folk plans to maintain their dominating presence within the trade dining sector and expand their retail distribution in the next few years.
M 07788 402175
www.sodafolk.com