English wine producer Hush Heath Estate has created a limited edition presentation box housing 1 bottle of Balfour Brut Rosé 2010 and 2 Balfour Crystal Glasses.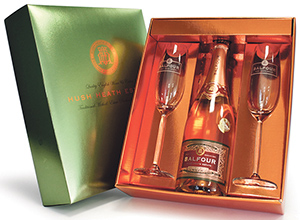 The gift set is sold at £76 and produced in the traditional Balfour brand colours of copper and green.
The presentation box was cardboard engineered by Concept Packaging Ltd using Mirri materials. The box design was printed onto Mirri Pak Ultra 315mic silver material, which was mounted to a 1500mic white lined Smurfit Kappa greyboard. The internal fitment holding the bottle and two glasses was printed on MirriNor.
MirriNor is a silver laminated board that combines a high quality, metallic film from Mirri with a Smurfit Kappa patented microflute corrugated board. MirriNor is a strong, lightweight material. A 2 sided MirriNor 800mic material was used for the presentation box. As it is metallic both sides, the board could be folded to hold the glasses and bottle and reveal a metallic effect throughout, adding to the level of presentation. The MirriNor fitment was printed both sides in Balfour branded colours.
Hush Heath Marketing Manager, Hilary Green, commented, "We chose Mirri because it's a fantastic material to communicate the premium nature of this presentation gift pack. The MirriNor fitment inside holds the wine and glasses in place securely and matches the metallic effect on the outer box perfectly, producing an overall sophisticated luxurious result."
T 01189 167307
www.mirri.co.uk