Innovia Films is expanding its portfolio of peelable Biaxially Oriented Polypropylene (BOPP) films – Propafilm™ RCP is now available in 52 and 60 microns.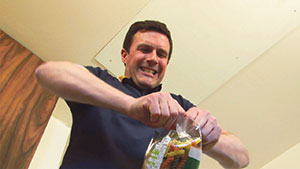 This significantly proven, easy-to-open, food packaging film range now includes heavy duty, high barrier and snap wrap options.
The main benefit of using Propafilm™ RCP is that its seals are easy to open. Consumers of all ages and abilities can simply peel open the seals to reveal the product inside. Whether they are young, an older adult or have physical limitations, no excessive force is required. No need either for scissors, sharp implements or the risk of serious injuries. Gone are the frustrations of so-called 'wrap rage' when you just can't get into the pack!
From a product packer point of view, achieving this easy opening could not be simpler: the seal strength is consistent every time and the film can be used on existing packaging machines without any adjustments required.
Another key benefit of using Propafilm™ RCP is that product spillage can be hugely reduced. With traditional films, opening packs often results in the packaging tearing. Who has not spilt pasta or dried fruits when opening a bag, scattering the precious contents onto the floor?
Propafilm™ RCP provides reliable clean and neat opening, without destroying the pack. In addition, because the pack remains intact, resealing also becomes an option, when a label is applied. This allows products to be kept tidily in kitchen store cupboards.
For more information on this solution, watch Innovia Films' video on their YouTube site at: www.youtube.com/watch?v=7YdFHZ7R_KM
T +44 (0)16973 42281
filmsinfo@innoviafilms.com
www.innoviafilms.com