Suncrest has been a family owned business since 1985, but 2016 has been a year of real change and excitement for the well-loved tropical soft drinks company.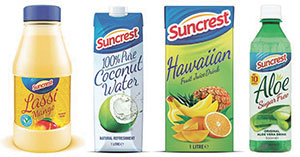 In recent months the packaging has been given a facelift and redesigned to give greater standout on shelf.
Following extensive market research a number of the recipes have been tweaked to optimise the taste profile and to top it all Suncrest is being advertised on national TV with a brand new fun and quirky animated commercial. All this activity has been carried out with a view to increase the profile of the brand and increase sales.
Paresh Mehta, Commercial Director, Suncrest comments, "Last year we made seismic changes to the Suncrest brand. We've invested a great deal of time and money to improve not only the product but also the packaging. This investment is resulting in greater visibility and sell-through for us and our customers and feedback from consumers has been great. The new packaging uses a new version of our logo which is modern and crisp as well as a vibrant colour palette that our research shows appeals and gives superb standout on shelf. We also felt that it was important to support our retailers and make sure that consumers recognise the new packaging. This has led us to doing our first national TV campaign for many years. The ad is a funky and fun animation, showing viewers some of our most popular drinks and then asking, 'What's your flavour?'"
T 0121 505 9223
info@ktc-edibles.co.uk