Just as we place door mats at the entrances to our homes and work buildings to stop dirt coming in, forklift mats stop forklifts bringing dirt in through the doors of your warehouse and into your facility, according to Mats4U.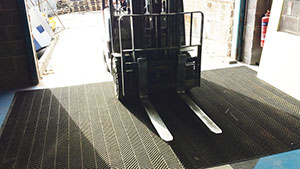 Forklifts make several journeys throughout the day going back and forth, in and out of the warehouse. They bring considerable amounts of dirt and water inside which can cause health and safety problems, such as slips and falls as well as containment and hygiene issues. The problem is exacerbated in inclement weather or if it is difficult to keep your storage yard free of dirt and mud.
Fixed down at the entrance areas to your warehouse, Waterhog Forklift Mats remove dirt and moisture from the wheels of forklift trucks and other traffic. They have a crush proof, bi-level construction which holds the dirt in the mat, where it can easily be cleaned away at the end of the day.
T 0121 313 6748
www.mats4u.co.uk