Leading fresh food packaging manufacturer, LINPAC, has invested over £320k in a state-of-the-art outside chill plant at its West Yorkshire headquarters to bring its UK cooling system in line with the European standards of LINPAC Group.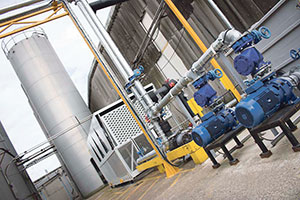 The new system, which replaces three existing evaporating cooling towers at the site, will run at a low ambient temperature for optimum energy efficiency and completely removes the risk of legionella bacteria formation on site.
UK Engineering Manager at LINPAC, Nathan Oades, commented, "By installing the new cooling system external to its manufacturing operation, LINPAC UK now complies with industry-wide best practice. It also mirrors the standards set by our LINPAC Ritterhude, Pravia and Infia sites, which already operate similar systems."
"The investment will have a positive environmental impact, with estimated energy savings of up to 26,000 tonnes of water and over £120k in power per year. And importantly it eliminates the potential health risks associated with vapour emitting systems, being fully HSHE compliant."
LINPAC aims to maintain high HSHE standards in all areas of the business. By taking the initiative to replace its existing cooling system as part of a phased replacement project, LINPAC has continued to adhere to its 'We Care' policy, which ensures that the health and safety of its employees, contractors and communities is at the forefront of its operations.
Mr Oades added, "Today's investment in its new cooling system secures LINPAC's position as a socially and environmentally responsible fresh food packaging manufacturer of tomorrow."