Dry spiced spirit set to shake up the market
The Island Rum Company celebrates the UK launch of Black Tears, the first ever dry spiced rum blend from Cuba to be made available to consumers worldwide.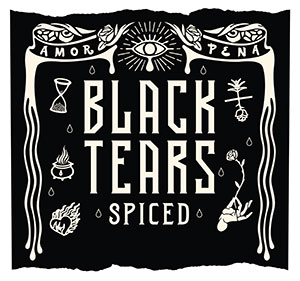 Distilled from exceptional molasses and sourced from four mills in the province of Ciego de Avila near Cuba's northern coast, Black Tears is spiced with coffee and cacao, which have flavoured the history of Cuba itself, and infused with ají dulce, one of the most distinctive tastes in the island's cuisine.
The irresistible, bittersweet taste of Black Tears—and its low sugar content—sets it apart from other spiced rums and makes it completely unique within the spiced rum category. Moreover, Black Tears has earned the Vigia seal of high-quality rum, acknowledging the excellence and passion in the production process.
Bucking the trend of sweet, vanilla based rums that dominate the spiced-rum markets, it offers notes of coffee, tobacco, cacao for a more authentic taste and, thanks to its complex flavour, Black Tears mixes beautifully in long drinks and cocktails where it adds more drama and depth to traditional rum drinks. While its signature serve is 50ml Black Tears with 150ml tonic, served in a highball over ice and garnished with an orange slice and habanero pepper, the brand also has a range of long drink and cocktail recipes that show off the spirit's versatility. These include The Double Black, Chocolate Mojito, The Black Tear and The Black Cuban.
The story of Black Tears is rooted in Cuban music, specifically a song about love and loss called Lagrimas Negras, directly translated as the rum name. According to local legend, a young woman sobbed black tears of sorrow into a vat of rum, giving it an otherworldly taste. Black Tears is the result of passionate craftsmanship, with an emotional blend of Cuban rum, seductive spices, love and loss.
Cubans never know what struggles a new day may bring, so they take life as it comes, holding nothing back. They live with their whole heart, experiencing love and loss together en la lucha – the fight. Hold nothing back. Let the Black Tears flow.
"Cubans express themselves in everything they do," said Adele Robberstad, CEO of the Island Rum Company. "When they create a spirit it's an expression of their emotions. When people around the world taste Black Tears, they will want to express themselves, too."
Black Tears is available from Amazon.co.uk, Whisky Exchange and Masters of Malt from £34.99, as well as various bars and restaurants across the UK.
Learn more at: www.blacktears.com or contact Skylark Spirits: info@skylarkspirits.com or call +44 (0)7962 347067.