New for 2021 – OPM are delighted to announce the installation of a Controlled Environment Facility to enhance our Pharma, Food and GMP standard audited Leeds site.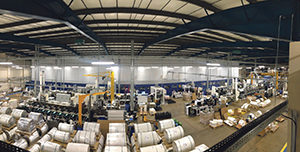 To meet increasing demand for product produced in Controlled, Critical Environments, OPM have installed a fully enclosed, segregated & controlled print room. Spanning 60 metres in length and 7 metres in height with vision panels throughout, this was a seamless installation taking only 6 days to implement. Providing an environment where air quality, temperature & humidity are highly regulated, to protect print & customer materials from possible sources of contamination & impurities.
The integrity of the room is maintained through regular attention to cleaning, maintenance, and microbiological monitoring programmes.
Having a protective room where materials are printed, finished & packed ensures OPM's product meets stringent quality standards required & important within the healthcare, pharma, & beauty markets. It supports our clients whose products are destined for high-risk areas/consumers.
Benefits
Traceable, controlled print environment
Contaminant free products
Increased product confidence
Sustainable enclosure manufactured from 85% recycled materials
OPM worked with Prodek to implement the facility, who have over 20 years' experience & capabilities to provide innovative solutions for environment & clean room projects.
OPM offer consistent and reliable product quality, short lead-times, speed-to-market, prompt, responsive service with a dedicated customer support team. A secure 'smart' site with automated workflows provides full traceability and validation of raw material and product. All products are produced to ISO 9001:2015, BRC/IoP Global Standard Food Packaging standards Grade AA and PS9000:2016 are printed using low migration/Food Grade Inks. AVT Electronic 100% Vision systems ensure only fully compliant products are supplied.
To complement our equipment and production facilities, our staff are a valuable asset, highly knowledgeable specialists with many years' experience of supplying printed packaging, available to assist and provide solutions to your individual sector requirements. OPM provide a one stop shop service for your label and flexible packaging requirements.
Contact the team: Customerservices@opmgroup.co.uk
Read more about OPM: www.opmgroup.co.uk