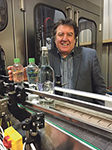 Somerset bottling firm Cheddar Water has invested £500,000 to boost production and launch a new range of biodegradable bottled water.
Coding and labelling solutions provider Clearmark Solutions (ICE) has been named as winner of the 'Excellence in Industry' category at the prestigious Nottingham Post Business Awards.
Responding to the growing popularity of cans in the Icelandic market, brewery Ölgerðin enlisted the support of the world's leading can manufacturer, Ball Corporation, to help them design and produce cans for the iconic AVA fruit water brand.