More than 100 years ago, the first Belgian recipe for powdered pudding preparation was conceived. Today, powdered desserts are still a classic in the GB Foods range and millions are packaged every year. For the automated quality control of the pouches, GB Foods switched from vision-based control to SealScope™ in-line seal inspection.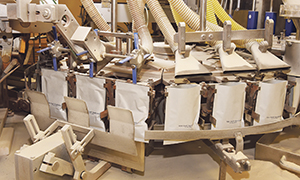 GB Foods, one of Europe's leading food companies. has recently acquired Continental Foods in Puurs, Belgium, who originally decided for the implementation. The food group represents brands that have been used daily in most kitchens such as Devos-Lemmens, Royco, Liebig, Aïki Noodles, Blå Bland and Imperial.
It is for the last two brands that GB Foods required a new inspection solution that better detected leaking pouches. Open pouches cause a high risk of spoilage, resulting in production stoppages, clean-up actions. and even brand damage.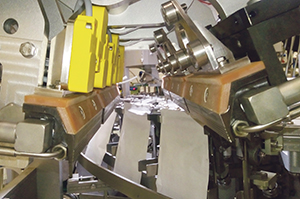 GB Foods packages the pouches on triple-lane HDG rotary machines. Three pouches are simultaneously opened, filled and finally sealed. At the end of the line, there is a reject system where defective packages are removed from the conveyor belt. Initially, the seal inspection was handled by a camera system, which analysed the number of ridges in the seal and – based on this analysis – approved or rejected the pouch. However, the fine dusting powder constantly contaminated the camera lens, resulting in too many faulty analyses with unnecessary rejects or failures to emit defective packages. To cleanse the camera lens, the line had to be stopped, resulting in considerable production downtime. Therefore, GB Foods decided to implement a fully automatic, in-line inspection system and opted for SealScope™, Engilico's in-line seal inspection system.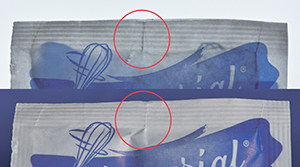 Automatic, 100% seal inspection
The SealScope™ solution consists of specialised distance sensors mounted on the existing sealing bars, the industrial controller that processes all incoming and outgoing data, and the HMI presenting the results in an intuitive dashboard. When closing and sealing the package, the distance between the seal bars is measured with high precision. This measurement is then compared with a good reference seal measurement. If there are any folds or product in the sealing area, this is instantly detected and SealScope™ sends a signal to the sliding hatch to remove the defective product from the packaging line.
Better packaging process through SealScope™
Initially there was some internal skepticism to whether this sensor-based system would work due to the presence of the powder dust, but it soon turned out that SealScope™ was much more reliable and efficient than the original camera system. SealScope™ brings another important advantage. Since the sensors are mounted directly on the sealing bars, the condition of the sealing process can also be monitored and tracked. If rejects of pouches increase at any point in time, it is often because maintenance is required, such as the cleaning of the sealing bars.
"Engilico's SealScope™ system exceeds our expectations," concludes Bart de Bont, engineering manager at GB Foods. "The fully automated inspection system has both increased production quality and improved the packaging process robustness."