Introducing the new Cobot end of line palletiser from Phoenix Handling Solutions combined with our Nipper automated guided vehicle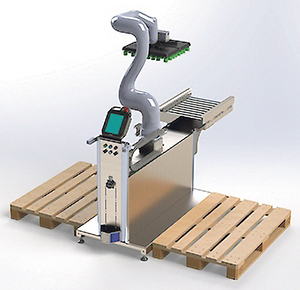 The new SRP Cobot from Phoenix Handling Solutions (PHS) is an extremely compact, versatile and fully automatic, low-cost modular robot palletising system, based on a Hyundai YL012 6 axis industrial collaborative robot.
Given PHS' vast experience in end of line automation, Cobots were a natural progression for its business for existing and new customers alike. They are simple to install and do not require masses of conveyors to feed them.
Hence, they can be easily placed at the end of a production line picking and placing product 24/7 if required.
The Cobot can palletise up to 18 cases per minute when multi picking. It has a radar safety scanning system to the front, in order to detect personnel. It can handle up to 12kg including the gripper and there is also a layer sheet option.
The Nipper is an automated guided vehicle capable of placing empty pallets into the Cobot palletiser and removing them when complete. It means that the customer can enjoy a fully automated solution with no operator intervention. PHS are the sole UK agents for the Cobot and AGV, meaning that you can rest assured that we will fully support your complete installation for after sales spares and servicing.
T 0845 265 7570
admin@phs-uk.com
www.phs-uk.com