Coding and labelling solutions provider Clearmark Solutions (ICE) has been named as winner of the 'Excellence in Industry' category at the prestigious Nottingham Post Business Awards.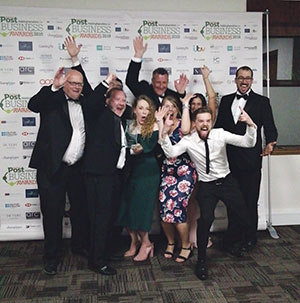 The award celebrates standout success and recognises businesses working hard to drive innovation within the region. Clearmark contended with strong competition within the category but the company's dedication to innovative technology and providing customers with technically workable solutions, was deemed worthy of the win by the judging panel.
The awards gala, which took place at the East Midlands Conference Centre, included a performance by opera duo Belle Voci from ITV's The Voice, as well as a silent charity auction and standing bingo, fundraising in support of the Rainbows Hospice.
Clearmark provides a variety of ICE coding and labelling technologies including Thermal Transfer, Print and Apply Labeller and Case Coding machines to suit a range of application requirements. The company also provides a range of in-house services such as custom bracket design and production, repairs, spares and consumables, supported by a team of trained technical experts, all of which help to achieve optimum production uptime.
To keep up to date with Clearmark, please follow us on LinkedIn: @Clearmark-Solutions
The Eagle Has Landed! Ice Zodiac Eagle 107mm provides uptime boosting longer length ribbon support & increased throughput benefits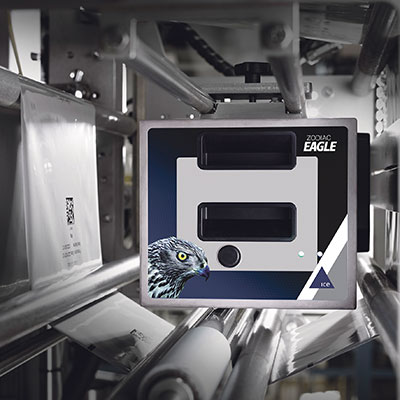 Award-winning coding and labelling specialist, Clearmark Solutions, recently launched the ICE Zodiac Eagle, a next generation 107mm thermal transfer printer, designed to deliver higher throughputs and support longer length 1,200m ribbon for larger prints.
The ICE Zodiac Eagle, an evolution of the popular ICE Zodiac HS 107mm printer now features an airless all electronic design, which allows for more precise control of the printhead and can help boost line throughput by up to 25%.
Engineering out a requirement for compressed air also helps to reduce the printer's total cost of ownership, by helping to reduce operation and maintenance costs. An additional benefit gained by engineering out the need for energy-intensive compressed air is improved environmental impact by minimising energy expenditure and emissions output while improving overall efficiency.
The ICE Zodiac Eagle also features a full colour touchscreen, with the proven CLARiTY operating system. The system is fully modular allowing up to four printers to be operated from a single screen.
Chris Simpson, Managing Technical Director at Clearmark, comments, "The ICE Zodiac Eagle is the latest evolution in the growing Zodiac range.
"This printer has been specifically engineered to incorporate a series of breakthroughs in coding technology to help customers achieve larger prints with longer ribbon, which in turn helps to reduce frequency of changeover, while continuing to drive down total cost of ownership."
The ICE Zodiac Eagle also features zero-waste ribbon indexing technology minimising waste ribbon, by producing no spacing between prints, another effort to minimise environmental impact whilst also improving efficiency and saving overall cost of ownership.
In addition to this the longer ribbon length offered reduces core waste.
The ICE Zodiac Eagle comes with a full colour touchscreen, with the proven CLARiTY operating system.
The system is fully modular allowing up to four printers to be operated from a single screen through a master/slave set up.
The CLARiTY interface is intuitive and easy to operate, offering user configurable pre-defined drop-down fields that can be set up in order to limit operator intervention and minimise errors with variable information such as sell-by dates, traceability codes, product variables and country of origin.
CLARiTY gives the operator visibility to identify the ribbon usage and the predicted replacement time to assist with planning changeover and reducing downtime.
The ICE Zodiac Eagle follows the successful launch of the ICE Zodiac Hawk, the only thermal transfer printer with a built-in print checking system.
The ICE Zodiac Hawk is capable of reporting on the quality of each code it produces, largely removing the need to invest in costly add-on vision systems and operator training in order to meet increasing demand from retailers for code quality checks.
About Clearmark
The Clearmark journey of innovation first began in 2001 with the release of the market leading ICE Zodiac Thermal Transfer Overprinter (TTO).
Over the course of almost two decades, this coder has become a ubiquitous force in primary packaging and has continually evolved to provide the fastest and most intelligent way to vastly improve Overall Equipment Effectiveness (OEE) in a factory.
To find out more about the ICE Zodiac Eagle or to book a demo, please call the Clearmark team on 01159 640144.