This November, the plant-based brand ZENB is launching a unique podcast series to coincide with the release of the latest addition to their premium, organic snack range: ZENB Bites.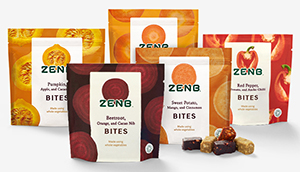 The 'Bites of Nature' podcast presented by Jasmine Hemsley, explores how you can use the nature that surrounds you to improve wellbeing, even with bite sized amounts.
Passionate chef, author and nature aficionado Jasmine Hemsley hosts the 5 part series drawing on personal experiences and the importance of encouraging people to harness the power of small doses of natural goodness.
Each episode features a different guest including TV presenter AJ Odudu; Richie Bostock aka The Breath Guy; rock climber, yoga teacher and personal trainer Kim Hartwell; pro kite surfer and extreme sports athlete Hannah Whiteley; and incredible botanist and TV star James Wong.
Dominic Melliss, MD of ZENB UK, commented, "We are excited to launch our second product in the UK and are committed to producing premium, responsibly sourced products which place vegetables at their heart. With their resealable pouches, our latest plant powered product Veggie Bites, are the perfect accompaniment for a brisk Autumn outdoors walk and we hope our new 'Bites of Nature' podcast will encourage people to get into the great outdoors, even if they only have five minutes."
The ZENB Bites of Nature podcast can be found on the ZENB website at https://zenb.co.uk/pages/podcasts and is available on all usual platforms.
Infused with herbs and seasoned with spices, ZENB Bites are set to revolutionise grazing on the go. Available in perfectly portable resealable pouches, they can be enjoyed anytime, anywhere. Each pouch of ZENB Bites is organic, plant-based, gluten free and a source of fibre, as well as being free of any artificial flavours or preservatives.
The new range of ZENB Bites come in five delicious flavours:
Carrot, Pineapple and Coriander
Pumpkin, Apple and Cacao Nib
Beetroot, Orange and Cacao Nib
Red Pepper, Tomato and Chilli
Sweet Potato, Mango and Cinnamon
The ZENB Bites are available exclusively from ZENB.co.uk with a special introductory offer of a trial pack of ZENB Bites, featuring 3 flavours for just £5.00, with free delivery. Prices start from £3.00 RRP per pouch and are available in packs of 5 or 15 individual or mixed flavour pouches. Subscription based packs of 5 or 15 pouches can also be purchased, unlocking a discount of up to 10%.
Those new to the world of ZENB can try the new mixed snack box and explore the full range of ZENB Veggie Bites and Sticks available on ZENB.co.uk.