At Pro Handling Solutions Ltd we are focused on providing Conveyor Equipment and associated high-end design products to the highest quality standards.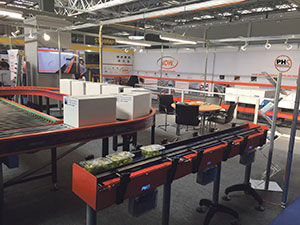 Our method is a mix of bespoke design with standard product, giving the flexibility to provide the end user with their exact requirement, at the same time keeping design & manufacturing cost low. With simulation, design & manufacturing capabilities, Pro Handling Solutions provides success, where an off the shelf product cannot.
At IMHX 2016 Pro Handling Solutions displayed our Standard Conveyor products. Carton & Pallet Roller Conveyor and our new generation of Belt Conveyors all powered by 24v Driven Rollers. The whole stand amazingly was drawing 480 watts of power, which is less than a household kettle.
Our 24v Carton Roller D shaped loop displayed boxes conveyed in a process/buffer mode, this mode reduces the number of drive rollers and sensors required, which in turn reduces the cost per module.
The display utilised 2 Drive Rollers on the 5m Section, joined either end by a fully 24v powered corner transfer. The D Section displayed Zero Line Accumulation mode, where product accumulates without touching. Our 24v Driven Roller Pallet Conveyor conveyed pallet loads of 1.5 tonne using 2 Drive Rollers in a 3m section. The conveyor utilises Poly V Drive Belts and an all Steel Welded Slave Roller from our Partners NDW UK.
T 01386 550540
sales@phs-ltd.co.uk
www.phs-ltd.co.uk