The Derry Group, a one stop shop for the distribution, storage and order picking of chilled and frozen products has recently announced the launch of its new employee engagement app, Thrive.App.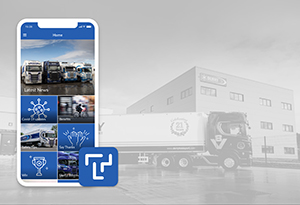 Their flagship company Derry Refrigerated Transport is a leading service provider for chilled and frozen distribution throughout Ireland, the UK and Europe. Derry Refrigerated Transport is the first haulage company in Ireland to sign up to the newest self-service, rapid deployment Thrive.App which brings together the key features needed for businesses to power up their internal communications for their frontline teams.
With hundreds of employees working across multiple locations in Ireland, communication, organisational engagement and information sharing is essential for the growing business.
In order to meet the additional challenges presented by the current global pandemic and the fact that the company works out of various locations throughout the country The Derry Group recognises the need to look at new ways in which all employees can more effectively communicate and share information with each other.
Commenting on the deployment of the new Thrive.App, Patrick Derry, Managing Director, said, "We have worked hard to build and transform our business to what it is today, and our employees are key to our success. It is important to us that we give them everything they need to carry out their roles successfully as well as feeling supported and recognised for what they do. With the Thrive.App our employees can now easily access the information they need to support them in their role, they see important updates as they occur, and they know what is happening across all areas of the business.
"The launch of Thrive.App will bring everyone closer together, which is particularly important during the current challenges of COVID-19 and the fact that we have teams in various parts of the country.
"The Thrive team have provided the best support and guidance in helping us to launch the employee app and we are confident they will continue to support us to make it a success across our organisation."
James Scott, CEO, Co-Founder of Thrive, adds, "We are delighted to help and welcome The Derry Group as a new client and look forward to working together to ensure their employee communications and engagement app is a success and loved by their teams within the Group structure whether based in Armagh, Dublin or Cork.
"Our goal is to help organisations in shifting their communications from traditional methods such as printed newsletters, notice boards and team briefings to instant, modern apps and we have loved helping The Derry Group do this. We look forward to seeing the direct positive impact the app will have on their employee communications and engagement."