Food and Drink Matters is delighted to feature Crystaltech Services UK Ltd as its truly deserving Catering Equipment Servicer of the Month.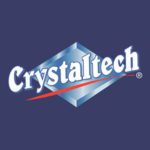 Incredibly, it all began in a garage in 1980 with the foundation of BHM Group Services, a specialist provider of commercial glass and dishwasher repair and installation services. 10 years later the business was rebranded as Crystaltech. Today Crystaltech is regarded as an industry-leader, specialising in the installation, service and repair of all makes and models of commericial warewashing equipment.
Crystaltech is impressively the UK's largest independent glasswasher service company and, from its base in Ilford in Essex, it effectively delivers a nationwide service to its customers 24/7. Founder and Managing Director, Derek Maher, provided further detail about the group's core activities. "We are a specialist in the repair of commercial glasswashers, dishwashers and ancillary equipment, which includes water treatment and chemical dosing," he explained.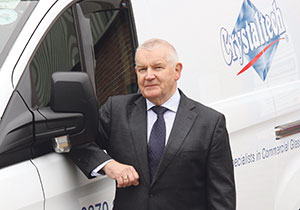 "One of the many advantages of working with us is the fact that we don't just repair the equipment – we also look at the quality of the results. For example, we ensure to check the cleanliness of the cups and plates and, in pubs and bars, as to whether the beer poured in glasses is holding a 'head'. This is because both hygiene and presentation is important; we are the only company of our kind that takes ownership of the entire process (which includes chemicals, equipment and the results).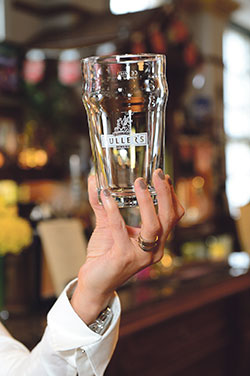 "We also write the industry Glasswashing Guide for Cask Marque and sit on the CEDA Technical Steering Group. The company has recently made significant investments in the development of an on-site training centre for our engineers. Going forward, we are looking to experience steady growth which we believe can be achieved mostly by word of mouth."
Over 35 years of experience has enabled Crystaltech to effectively refine its services and build up a solid customer base. In the early years of trading, glass and dishwashing machines were quite simple and basic compared to the high-tech machines that are now available. Crystaltech has efficiently responded to the changes in the commercial warewashing market; training its engineers as appropriate in order to enable best practice whilst servicing highly sophisticated electronic machines.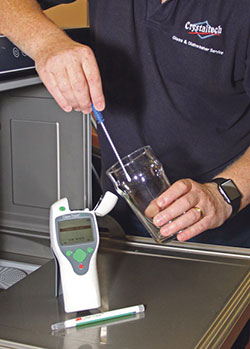 Across the decades the team has facilitated a number of restaurants and pubs; its esteemed clientele includes many big name brands such as Wagamama, Pizza Express, Zizzi, Greene King, Stonegate, McMullen's and Fullers. One of its most significant case studies relates to The Mad Bishop & Bear, a pub managed by Fullers located within Paddington Station in London.
This traditional English pub has incorporated Crystaltech's exclusively developed Reverse Osmosis (RO) solution in a bid to prevent residue forming on cleaned glasses (caused by the hard water present).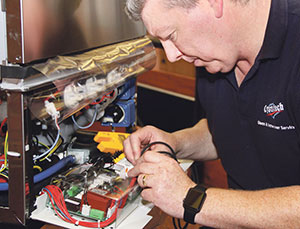 The system has resolved this issue by using pure water combined with the right balance of chemicals whilst lowering wash temperatures and providing what can be described overall as a much more energy-efficient glasswasher.
Customers can benefit from a support system that operates 24/7, a speedy response time and a first-time fix rate covering all makes and models courtesy of Crystaltech's 58-strong network of dedicated engineering experts and storage facility stocking over 40,000 spare parts. Whether requiring assistance with appliances on an ongoing or emergency basis, you can rest assured that Crystaltech will provide the service and guidance you need.
T 0370 350 2424
info@crystaltech.co.uk
www.crystaltech.co.uk