Checkit has partnered with Cambridge City Council to develop its next generation Cloud-based food safety management system.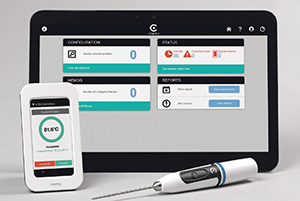 Checkit builds upon the Food Standards Agency's Safer Food Better Business, enabling all food businesses to replace their paper-based system with interactive digital checklists and automated cloud-based monitoring.
The Checkit system includes a hand-held device that displays scheduled tasks to staff, guiding them to ensure they comply with food safety procedures and then automatically records and time-stamps their actions; handheld temperature probes and wireless sensors that monitor temperature, humidity or door status; 24/7.
The data from all checks and temperature readings is viewable by staff and managers via a cloud dashboard providing complete visibility and control and reducing management burden. Checkit is available as a subscription service with packages for every size of business from the small restaurant to a multi-site chain or food manufacturer.
T 01223 941450
www.checkit.net