Eat My Logo is a specialist bakery business helping you to increase your revenue and add another string to your bow.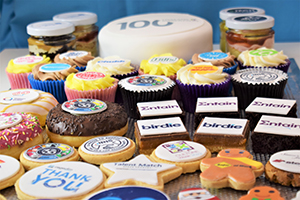 By combining traditional baking with cutting-edge print technology, the Lancashire bakery can provide fully finished edible treats, branded with company logos, themed images and decorative artwork. They can also provide their unique toppers for food businesses to decorate their own creations.
Eat My Logo offers businesses an easy way to bring edible print into their proposition without the need for additional investments and labour. Current customers include some of the industry's best loved brands, including Compass Group, Harrison Catering Services, and AB Mauri, as well as smaller and more boutique caterers and hospitality providers.
There has been increasing demand for new ideas to the sector, with catering and hospitality businesses looking to offer their clients unique products for celebrations, engagement events, awareness days, and special occasions. Edible printed items fit the bill perfectly, as they are highly bespoke and can be printed with any full colour image.
Eat My Logo's team are on a mission to work with more businesses in the industry. They are keen to talk to chefs, caterers, hospitality businesses and restaurants of any size to share just how edible print can help enhance your proposition.
Get in touch today to bring some visual delight to your food offering.
Contact Daniel Clarke, Eat My Logo Limited,
T 01772 273137
catering@eatmylogo.co.uk
www.eatmylogo.catering
Eat My Logo is an innovative supplier of sweet treats, decorated with a themed image or company Logos. Established in 2014, we work with catering and hospitality businesses to offer their clients unique products for celebrations, staff engagement, events and conferences. We specialise in irresistible cakes, biscuits and chocolates.