Henry Howard Finance has helped family firm Jolly's Drinks to find new life. Changes to manufacturing processes and further product development in the face of multiple economic pressures were needed for new owners to come on board. Henry Howard Finance helped make that happen, and at the right time.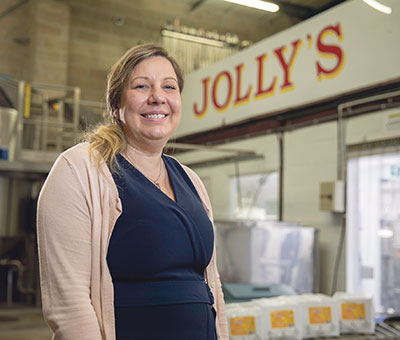 Jolly's is a soft drinks manufacturer operating in the wholesale market – legislative issues surrounding sugary goods and single-use plastics, as well as changing consumer tastes, meant additional investment was required to move the company forward and fast.
Originally founded by the Jolly family in 1896, incoming Managing Director, Cheryl Ingram, knew a 2018 takeover could only succeed with further investment in factory facilities, equipment and existing product ranges. Financing the acquisition and investing in the business at the same time would only be possible with external support – and that's where Henry Howard Finance came in.
Cheryl explained, "All these things were happening at the same time and we simply couldn't have taken the business on without a significant amount of disposable income to hand. Henry Howard Finance supported us in gaining access to the capital we needed to acquire the company so that we could make our own investments directly into the business itself.
"We were impressed with the overall level of support provided by Henry Howard Finance compared to other lenders, which ultimately gave us the confidence we needed to take on a new business in current climate. We've already gone to market with some of our new flavours – attracting new custom, increasing headcount and our turnover in the process – as a result of the support we received."
Matt Jones, Head of Asset Finance at Henry Howard Finance, said, "This is a great representation of the boost Henry Howard Finance can give small and medium sized business for the greater good of not just the company concerned, but also an entire industry and the wider UK economy.
"Supporting companies at the beginning of their business journey and building on these relationships to provide ongoing support and development throughout the life of that organisation is something of a specialism where Henry Howard is concerned.
"We are also aware that attracting the right investment at the right time for new business owners can often mean the difference between launching or acquiring or not at all, with little in between – we're absolutely delighted that in this case it has enabled a long-standing family firm to find new life in the modern world."
For more information on Henry Howard Finance, please contact 01633 415222 or visit: www.henryhowardfinance.co.uk