The new OM-CP-TEMP1000IS-A is an intrinsically safe temperature data logger certified for class 1, Division 1, Groups A, B, C and D and non-incentive for class 1, division 2 Groups A, B, C, environments.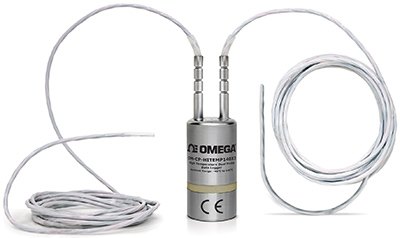 The certification makes the device ideal for ETO sterilisation, environmental studies, medical and pharmaceutical and numerous other hostile environment applications. Prices from £133.00.
Since its inception in 1962, OMEGA has grown from manufacturing a single product line of thermocouples to an established global leader in the technical marketplace, offering more than 100,000 state-of-the-art products for measurement and control of temperature, humidity, pressure, strain, force, flow, level, pH, conductivity and automation. OMEGA also provides customers with a complete line of data acquisition, electric heating and custom engineered products.
Freephone Sales 0800 488 488 (UK ONLY)
T +44 (0)161 777 2252
F +44 (0)161 777 6622
sales@omega.co.uk
www.omega.com/pptst/OM-CP-HITEMP140X2-FP.html