The International Nut and Dried Fruit Council boost funding for this year's campaign
Olympian and I'm a Celeb star Matty Lee MBE is fronting the campaign
The Dried Fruit Alliance is joining forces once again in 2022 with its third campaign to raise awareness and re-educate consumers about the health benefits and versatility of eating more dried fruit.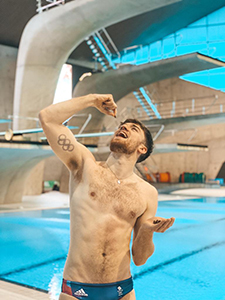 On the committee this year is dried fruit heavy-weight brands Whitworths, California Prune Board, Dried Fruits Australia, Raisins South Africa, Aegean Exporters Union, International Dried Grape Conference and Community Foods UK. With the support of the International Nut and Dried Fruit Council (INC), the total campaign investment in 2022 has grown by 90%; nearly doubling the budget from last year.
2021's #EatMoreDriedFruit campaign, fronted by TV personality Denise Van Outen, reached over 26million people across trade, national and consumer press, and social media. The success of this campaign in generating positive social sentiment and communicating key health benefits of eating dried fruit has encouraged further investment in 2022.
This years' campaign will be fronted by Tokyo Olympic Gold Medallist, and I'm a Celebrity star, Matty Lee MBE, supported by a mix of lifestyle, foodie, nutrition, and medical influencers including TV medic, Dr. Zoe Williams. The line-up of talent is helping to deliver key messaging around the versatility and health benefits of eating dried fruit to their engaged community of social followers.
Matty Lee comments: "I've always loved dried fruit; it was an essential fuel while I was training for the Olympics this year. I literally add it to anything and everything – from my morning smoothie to salads. So when the Dried Fruit Alliance approached me to work with them, I was over the moon. There are so many health benefits to eating dried fruit. Just 30g counts as one of your 5-a-day, and with important nutrients to help maintain healthy immune and digestive systems, it really is the gold medal of snacks."
Over the last year, changes in consumer attitudes were closely correlated to lockdown announcements, with health moving down the list of importance as lockdown periods continued. As restrictions have eased, the importance of health has recovered and it is now at its highest level since the start of the pandemic, and above the five-year average*. The Dried Fruit Alliance has identified this as an opportunity to establish dried fruit's position in the market as a versatile, healthy cooking and snacking essential.
Phil Gowland, Commerical Director at Whitworths said, "We've once again partnered with our allies in the dried fruit industry to actively encourage wider category growth. After the success of our #EatMoreDriedFruit campaign in 2021, we can really see the value in working with high-profile talent to communicate the benefits of dried fruit and reach a new audience that may not have considered adding dried fruit to their diets.
"As it stands, 92% of children aged 11-18 years and 73% of adults are not getting their five a day. With just 30g of dried fruit counting towards one of the 5-a-day, this year we're conducting consumer research to add insight as an extra layer to the campaign to firstly understand what the barrier to reaching these guidelines are, and then offer dried fruit as an achievable solution.
"As we emerge from lockdown, we have already seen a shift in consumer behaviour toward dried fruit to improve nutritional intake. With its naturally healthy credentials and broad range of nutritional benefits, we see now as being a really key time to push positive messaging to consumers."