J&E Hall's new ambient beer cooler is helping an historic Dartmoor pub to cut costs by making full use of the abundant chilled air in one of the remotest parts of Britain.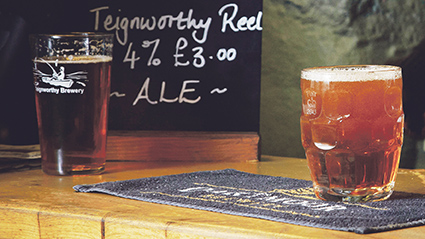 The ambient beer cooler, launched this year, has been installed in the cellar of the Ring of Bells, a thatched 13th Century inn and restaurant at North Bovey, a picture-postcard village 14 miles from the Devon town of Newton Abbot.
Pub owner, Richard Edlmann, had read about the cash and energy saving qualities of ambient beer coolers and decided to install one in his cellar. He said, "It's nice to know that we are now using around 40% less electricity than we would usually use. On Dartmoor the temperature is usually cooler than 8°C, so the J&E Hall ambient beer cooler works well with the cellar system."
A J & E Hall JCC2 40E cellar cooler was fitted along with the Ambient Beer Cooler by John Todd Refrigeration of Exeter. The equipment was supplied by FSW of Bristol.
It is estimated that up to a quarter of a pub's energy bill is accounted for by its refrigeration requirements. J&E Hall ambient beer coolers draw in cold air from outside; when the temperature drops below 8°C, the ambient beer cooler takes over from the main cellar cooler drawing in fresh air from outside via a fan and ducting kit.
T 01322 394420