Tired of the endless chopping and peeling?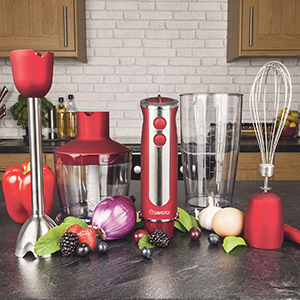 Want to inject new life into your tired, uninspired kitchen? Introducing Savisto – a dedicated supplier of ground-breaking kitchen essentials, all designed to make everyday cooking tasks a pleasure, rather than a chore.
Specialising in high-quality kitchenware, and with a keen focus on the latest technology, Savisto helps breathe life into any tired kitchen, giving all amateur cooks or culinary experts a new lease of life in the process. Gadgets and kitchen appliances include everything from on-trend spiralisers and hand blenders, to glass kitchen scales, cocktail-making kits and electronic salt and pepper mills – all manufactured with the highest standards in mind.
The must-have gadget of the moment is the spiraliser, and Savisto's take on the trendy appliance offers superb performance. The Tri-Blade Vegetable Spiraliser has interchangeable stainless steel blades for different shapes and thickness of cuts, making it incredibly versatile – from carrots and cucumbers to the famous 'courgetti' which is sweeping the healthy-eating blogs, there's no limit to what you can spiralise with this hand-operated invention.
The Savisto 3-in-1 Hand Blender is also one of the site's top sellers. Attachments include a stainless steel blender, a food processor and a whisk, meaning the appliance can be used for anything from healthy fruit shakes to whipping up cake batter. At just £27.95, less than half the recommended retail price, Savisto prove that performance and affordability can go hand-in-hand.