Two world leaders in their respective fields have combined their expertise to create Europe's first bona fide antimicrobial nitrile gloves.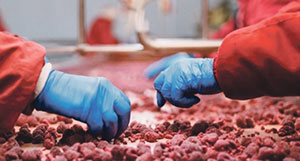 Unigloves new Fortified single use gloves incorporate silver ion technology from BioCote®, which has been scientifically proven to destroy 90% of bacteria within just 15 minutes and 99.5% in only two hours – BioCote is also proven effective against the potentially deadly Listeria, Campylobacter, E.coli andSalmonella.
Exposure to BioCote® treated materials (like the surface of the Fortified glove) prevents microbial colonisation and also renders them non-infectious, through protein and oxidative damage, membrane disruption and DNA interference.
It's a unique and consistently reliable solution to increasingly stringent hygiene thresholds in the food and beverage/catering sector – tackling the risks of cross contamination head on. Indeed, BioCote meets GFSI benchmarked standards and is the only antimicrobial technology to be HACCP certified as food safe and suitable for addition to food contact products.
Ionic silver particles are simply impregnated into the Unigloves synthetic nitrile (prior to vulcanisation) during production and homogenously dispersed throughout the rubber polymer as opposed to being added as a surface coating which can wear off. Silver is an ideal antimicrobial agent due to its effectiveness against a wide range of microorganisms and this protection lasts the lifetime of the Fortified glove – it will not wear or wash off, or leach out.
Unigloves Fortified single use gloves are food safe and are additionally tested and certified to EN374-1 for chemical resistance. They are latex and powder free and also available in sizes small to X Large.
Chris Wahlers, Managing Director of Unigloves, says, "As a renowned solutions provider, we're confident that Fortified will quickly become a must have for our food and drink industry clients especially, where cross contamination can have damaging effects on a business. They already adopt rigorous hygiene and cleaning practices, but contamination still occurs.
"Going the extra mile and protecting with a silver ion based BioCote® antimicrobial agent will not only significantly reduce the risk of microbial contamination, but considerably improve duty of care to staff and customers. It also shows proof of a diligent approach to food safety and evidence of preventative measures taken to minimise the threat posed by microbes such as bacteria and mould in food production and handling environments.
"We have rigorously tested product efficacy to ISO 22196:2001,but partnering with BioCote® has helped no end, as they repeatedly test the real-life benefits of protected products by assessing their antimicrobial performance in places like food processing environments, hospitals and laboratories."
Guy Charteris, Partner Development Manager for BioCote®, adds, "Our quality control procedures really are second to none and require Unigloves to consistently demonstrate above our own global standards of antimicrobial performance to continue carrying our trademark. No other antimicrobial provider enforces this measure – but to their credit they welcome this level and degree of transparency too.
"What a forward thinking and innovative partner like Unigloves also gets from BioCote® is a complete support package – this covers all things antimicrobial, not to mention data to support any marketing claims (a legal requirement), plus of course peace of mind their product and ours is doing exactly what we say it is."