Artisan wholesale sandwich maker Proper Tasty from Northallerton has a local production facility the envy of most national food-to-go suppliers. Handmaking up to 15,000 sandwiches weekly, their classic wedge – all packaged in fully recyclable natural Kraft card and plant-based film – now accounts for over 50 percent of sales.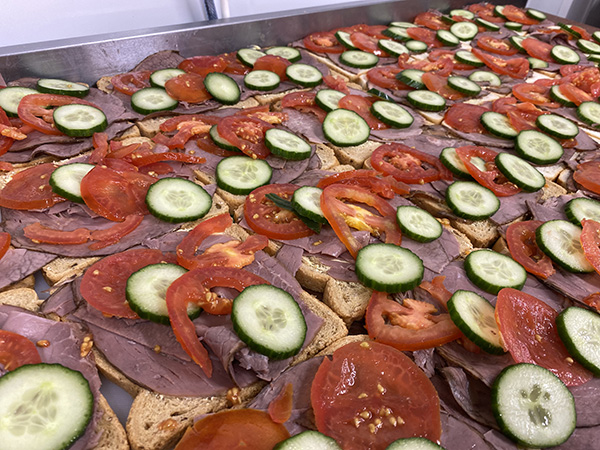 Founder Byron Evans of the 'Local is Best' award-winning firm discloses how Proper Tasty achieves consistent presentation and reduces food waste using two efficient four-pack semi-automatic heat sealing machines from British manufacturer Soken Engineering.
Delivering fresh sandwiches, sub-rolls, wraps and stotties to North East independents, shops, cafes, garage forecourts and major blue chip corporates, Proper Tasty also supplies its sliced and gourmet range to Yorkshire-based English Heritage tearooms and cafes sites. Delivering the highest quality, using regionally-sourced ingredients and where possible fully-recyclable eco-packaging to reduce waste are all equal factors that underpin this discerning ethical sandwich maker.
Evolving from a sandwich van and sandwich café concept in 2012 to a contract catering van delivery service, keeping money circulating through the local economy was Proper Tasty's founding mission. Having grown to a five-van delivery business, the pandemic curveball meant the ambitious managing director had to reevaluate the firm's future business approach. The company sold its five vans, streamlined its operation and ploughed everything back into its wholesale business model.
Supporting Yorkshire's circular economy
Now employing 25 staff, the adaptive, enterprising team continues to deliver what is does best – pre-packed 'Proper Tasty' sandwiches using environmentally-friendly packaging. It's fully circular missive is focused on supporting all of the rural region's greener, fairer and stronger low-carbon economy goals.
Reducing waste through its procurement of eco-packaging and rebranding of the wedge sandwich range has resulted in a 35% increase in demand among premium customers.
Byron attributes this quantum leap to its distinct and credible eco-brand messaging. He expands: "The feedback from many customers is our eco-packaging combined with locally sourced fillings, such as cheeses and eggs from Wensleydale, meat from nearby suppliers, fillings from Driffield and bread from a local bakery keeps our footprint low and fits with their sustainability ethos. Particularly prestigious regional customers like English Heritage, where their environmental goals are very aligned to ours."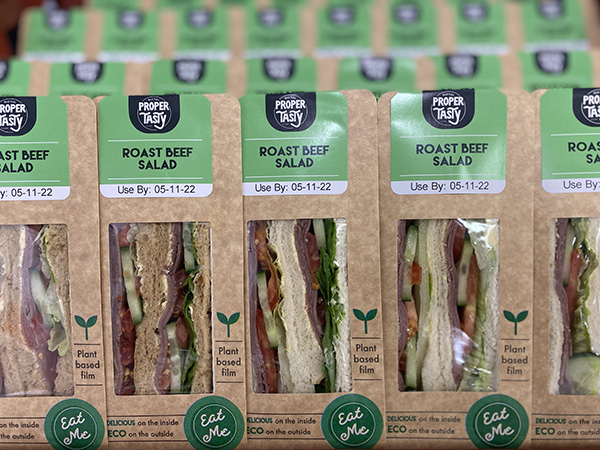 Double shelf life
Handling the switch over to heat sealing the eco-packaged wedge range earlier this year was seamless. Designed to adapt to packaging and built to last, the four cavity H535AC heat board sealer from Soken (a subsidiary of British process engineering specialist Jenton International) gives Proper Tasty the consistent quality seal to maintain presentation.
The machines also virtually doubles the shelf life of previously hand-packed pre-cut sandwiches to four days. Maintaining this level of freshness and achieving an air-tight seal significantly reduces the volume of preventable food waste generated by uneaten sandwiches, reports Byron.
As far as he is aware, no other sandwich supplier in the North East offers such robust environmental credentials.
"Achieving a perfect and consistent quality seal not only protects consumers from sandwich leakage, it provides visual tamper evidence for heightened quality control and also prevents fast-tracking spoilage," notes Soken manager Stephen Hawes.
Sealing sustainability success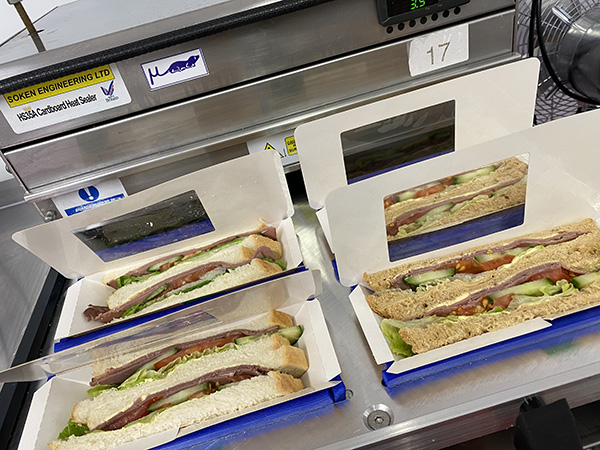 On the busiest days, the Proper Tasty workforce can perfectly present over 2,000 wedged sandwiches, heat sealing eight eco-packaged sandwiches on their two Soken machines every three and a half seconds. The only downside is the team can't handmake the sandwiches fast enough to match the pace of this semi-automatic air-tight sandwich packing machine, claims Byron!
Compared to conventional, mainstream sandwich production lines, Proper Tasty people take great pride in 'owning' their sandwich from start to seal. From preparing and assembling the freshest, locally-sourced ingredients, to layering, slicing and packaging, Byron affirms that their Soken machines supports productivity and subsequent workforce bonus rewards.
Knowing the cycle time of the Soken heat sealing process inevitably assists with real time capacity planning, setting targets and the efficient allocation of resources to specific tasks, affirms Byron. "We are even able to drill down to the packing time," he adds
Like many food and SME businesses, sourcing staff and catering to rising ingredient and packaging costs are the biggest ongoing challenges. Having a coherent Yorkshire brand and sense of local culture supported by rewards, profit sharing and other incentives, combined with efficient machinery and tools that make people's jobs easier to perform well, all play their part in building a sustainable business, states Byron.
Byron adds: "The sustainability pressures have certainly escalated and rightly so. Yet, at present there aren't always financially viable eco-material alternatives for every sandwich sealing machine." Nevertheless, following the successful switchover to eco-materials on heat sealed packaged sandwiches, Byron remains determined that Proper Tasty's full transition to eco-packaging will be complete by the end of the year.
As for the company's future ambitions, Byron is content with organic growth and continuing to support local businesses. Already widely known as a premium sandwich supplier, with several accolades to its name to back these claims, Byron reflects: "Our name came about when a consumer took a bite of a sandwich and exclaimed 'that's Proper Tasty'. In today's uncertain climate, having a solid reputation that can flex to changing demands using machinery with a fast payback to adapt in a sustainable way is the definition of success in my book."
For further information please visit:
www.sokenengineering.com