Cabal No.1513 aged rum is created using a combination of pot and column distillation techniques with rums from prominent distilleries in Guatemala, Guyana, Trinidad, Panama and the Caribbean, tropically aged at origin. The liquid is then finished in Pedro Ximénez casks in Speyside, creating a distinctive and complex, yet smooth taste profile.
Bottled at 43% ABV, Cabal No.1513 is non-chill filtered, and there is no added sugar, colouring, or flavour, leaving a high-quality, natural rum.
Delicious for sipping neat, and the perfect base for a wide range of long drinks and cocktails too, our brand ambassador, Plato Moysiadis, has created some truly mouth-watering signature serves that make the most of this incredible new rum.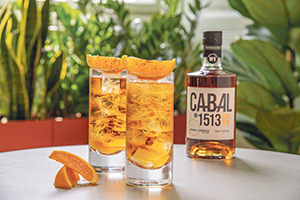 The Cabalero
A seemingly simple recipe but a lot of thought has gone into this incredibly refreshing highball. In my many years of bartending I have combined hundreds of different spirits with ginger ale, but Cabal No.1513 seems to be the best base I have tried so far for the ubiquitous spicy mixer.
Just the rum with ginger ale works perfectly but it might be slightly too sweet for some palates. Adding a touch of fresh orange juice helps bring the flavour back to the perfect balance of sweet and sour.
For the garnish, I took inspiration from my early years behind the bar when I used to take shots of aged rum with orange and ground coffee, in the same way people would enjoy shots of tequila with lime and salt.
The complex flavours of Cabal No.1513 coupled with ginger, orange and coffee make this delicious drink ideal for any occasion and any palate.
Recipe: www.cabalrum.com/recipes/recipes-cabalero/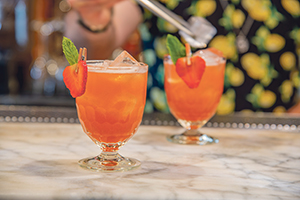 A Farewell to Rums
When I started working on this recipe, I wanted to create something fruity and tasty but with a tart element to it. I also wanted to make this a cocktail that can be made by anyone in any conventional kitchen with ingredients that are easy to source, or already in people's cupboards. I envisioned a more approachable version of a Hemingway Daiquiri and, after a few attempts, I ended up combining Cabal No.1513 with lime, grapefruit, mint and strawberry; flavours that pair so perfectly together it's hard to mess up the ratios in the cocktail. In the end, the drink hardly resembles a Hemingway Daiquiri, aside from a couple of ingredients, but the name is still inspired by one of Hemingway's most well-known novels. I genuinely think Papa himself would approve of a drink that is tartly delicious and can be made in any kitchen.
Recipe: www.cabalrum.com/recipes/recipes-a-farewell-to-rums/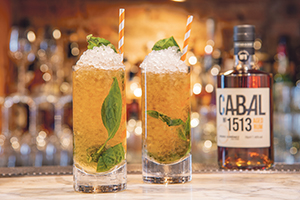 Cabal Royale
During my travels around the Caribbean and Cuba, I was introduced to the Mojito's long-lost cousin: the Negrón. It is a flavourful cocktail that calls for rum, honey, lime, basil and soda. The areas where the Negrón was traditionally enjoyed were sugar producing areas but the locals rarely had access to 'white gold' as it was way too expensive and meant only for export. This is why we often see honey used in recipes whose modern adaptations would call for sugar.
People always ask me if I mean 'Negroni' when I talk about this incredible cocktail. I always make sure to use the opportunity to introduce them to this mystical drink, followed by long rants about how it should be more popular than the Mojito. The Cabal Royale is a reinvention of the Negrón, bringing new life into the forgotten classic.
Recipe: www.cabalrum.com/recipes/recipes-cabal-royale/
Agua De Pasión
This drink is an homage to flavour and mouthfeel. You will find no juice or syrup in it, only higher abv ingredients that lend flavours to one another and present different tasting notes at every sip. This is truly a bartenders' cocktail. The technique I picked for this drink is called throwing, sometimes thought of as just another way bartenders like to show off. When you really understand why bartenders do it you will find that it is the perfect technique to use in recipes such as this, as it adds aeriation and mouthfeel to a cocktail that should not be shaken. The main star in the cocktail is passion fruit, hence the name.
Recipe: www.cabalrum.com/recipes/recipes-agua-de-pasion/
Yellow Mellow
Complex rum and banana. How could those two not play well with each other? Add some Pedro Ximénez sherry to enhance the already sherried rum and you end up with a dessert style drink with tons of natural sweetness, balanced so well that you forget you're drinking a cocktail and feel like you're taking a bite into a ripe banana with hints of dark notes coming from the rum and the rest of the ingredients.
All the effort in making this go into preparation. It is meant to be a pre-batched cocktail, kept in the freezer and served straight into a glass with ice. Which means I needed to pre-dilute it in the bottle. Instead of using water though, which would be how you would dilute a cocktail by shaking or straining, I decided to use clarified banana water as my dilution; adding even more flavour to a drink that already packed tons.
Recipe: www.cabalrum.com/recipes/recipes-yellow-mellow/
For more rum inspiration and to join the Cabal, visit: www.cabalrum.com and find us on www.instagram.com/cabalrum and www.facebook.com/Cabalrum to keep up to date with news, events, recipes and much more.
About Cabal
There's a unique ingredient in Cabal that you won't see listed in these recipes. People. The people who make up the Cabal want to feel connected, to be involved, to experiment and to contribute. It's this likeminded spirit that sets Cabal and all of its expressions apart. If you want to be part of the journey, join the Cabal at: www.cabalrum.com/join-the-cabal
Harpalion Spirits
Cabal is a Harpalion Spirits brand. Founded by two entrepreneurs passionate about the complexity, creativity and integrity that surrounds rum and its taste, Harpalion Spirits is wholeheartedly committed to using consumer insight to create its liquid, brand, story and future, with more than 200 people involved in the Cabal journey so far.
The company, head quartered in Edinburgh, is backed by entrepreneur Richard Dixon, Chairman and led by CEO Claire Kinloch, also CEO of strategy consultancy, Genoa Black.
www.harpalionspirits.com
www.linkedin.com/company/harpalion-spirits