The Henderson Group has deployed TranSend electronic proof of delivery (ePOD) on 120 Zebra TC55 Android devices across its Wholesale and Foodservice businesses.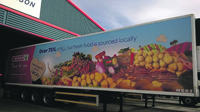 The new delivery management solution provides The Henderson Group with a centralised delivery portal across the entire delivery operation and is integrated with their WMS and route planning systems to provide a single view of all delivery data.
The TranSend app allows The Henderson Group to manage the entire driver's day from log-on and depot departure through to depot return and driver debrief. This includes:
Login checks to verify drivers against routes
Workflow to handle variable customer delivery requirements such as Drop & Go, Drop & Lock, COD, etc.
Dynamic updates with new driver tasks/deliveries throughout the day.
Recording uplifts, handling credits and split-cases.
Two-way messaging between the driver and back office.
Recording of notes and photographs against each delivery, available in real time to the back office for immediate debrief and to speed up any credit due.
Vehicle checks and defect reporting.
Delivery asset tracking and balance management for cages, milk crate dollies, etc.
With the new TranSend ePOD system, The Henderson Group are already seeing operational benefits:
A configurable, real-time back office dashboard view, tracking all vehicles and deliveries at any time.
ETAs, updated in real time.
Real-time exception alerts for proactive management of the delivery process, including temperature tolerance.
Accurate credit calculation for exceptions and returns, including catch weight foods and split cases for cash-on-delivery or immediate invoicing.
Enhanced vehicle checks, with intelligent walk-round sequence and full defect reporting.